11 things you may not know of Sgt. Pepper's album cover
-->
Sgt. Pepper is the Mona Lisa of album covers, an iconic image recognised the world over. Designed by husband and wife team Peter Blake and Jann Haworth, it presents The Beatles' alter egos surrounded by what Blake described as a "magic crowd."
Movie stars, musicians, writers, gurus, occultists - the eclectic mix breaks down notions of high and low, and reflects the varied styles of the songs within, from music hall to neo-classical to rock 'n' roll to Indian raga.
Most of all, it places The Beatles in a context of 20th century culture, elevating them, as they'd hoped at the time, beyond moptops to artists. The sleeve design won a Grammy for Blake and Haworth, and went on to be parodied by everyone from Mad Magazine to Sesame Street to Frank Zappa, The Simpsons and The Rutles.
Vote your favorite Beatles songs!
The cover concept began with Paul McCartney's pen-and-ink sketches
His first inspiration was a 1920s-era photo of his dad's orchestra, "Jim Mac's Jazz Band," surrounded by their well-dressed fans. To that, he wove in childhood memories of Northern brass bands playing outdoor events in parks.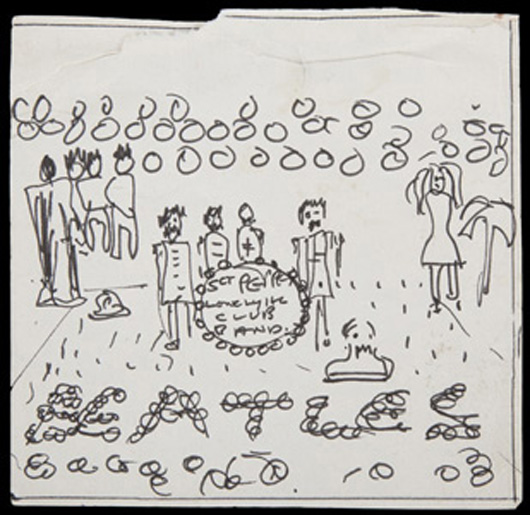 Artist Peter Blake was well-versed in the "magic crowd" idea
"The appeal of a crowd goes back to being a young kid as a football fan," Blake said. "I'd worked in crowds, with a series of circus collages, made up of bits of engraving or photos. I'd painted a scene of a battle, where there was a balcony at the top and famous people looking over it, such as W.C. Fields. These were Sgt. Pepper's antecedents."
John Lennon wanted Hitler and Jesus in the crowd
-->
As the Fabs voted for famous faces, Paul went for Brando and Astaire, George requested Maharishis, and Ringo said, "Whatever the lads want, that's fine." But John's picks caused controversy. Jann Haworth says, "Hitler was John's misguided choice. We made the figure, but removed him before the shoot. In the end, The Beatles only selected about one third of the heads on the cover, so Peter and I chose the rest."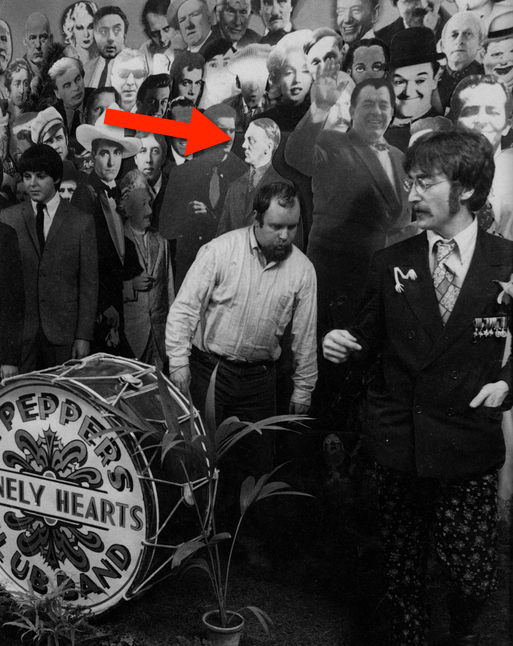 Even Beatle naysayers were included
-->
Boxer Sonny Liston was an odd choice, given that The Beatles had met and posed famously with Muhammed Ali, who twice defeated Liston. Also, after attending a Beatles concert in 1964, Liston said of Ringo, "My dog drums better than that guy."
Why is matinee idol Tyrone Power so orange?
The actor's Trump-esque visage (right behind Lennon) was the first of the crowd that was hand-tinted. "The caucasian skin tone was an orange-y shade, so he looks really tan!" Haworth says with a laugh. "I got marginally better as I progressed through them."
Lennon's uniform had medals from an unexpected source
-->
John's tunic stood out, thanks to decorations from ex-drummer Pete Best's grandfather, Major Thomas Shaw. Lennon, a fan of military paraphernalia, remembered the medals long after Best had been replaced. They were awarded to Shaw for service with the British Raj in India. Lennon called Best's mom, Mona, borrowed the medals for the photo shoot, then returned them afterwards with a thank you note and a copy of Pepper.
Who designed the iconic drum head?
Joe Ephgrave was a veteran fairground painter, hired by Haworth to conjure up a mix of "futuristic and old-fashioned graphics." He was paid a flat fee of £25 for two versions of the drum head. He made one small grammatical error though. "There should be an apostrophe between the 'R' and the 'S' on the drum," says Haworth. "It looks as if his name is Sgt. Peppers. I wish we could've fixed that."
Those are the wrong flowers in front of The Beatles
Haworth recalls, "What I wanted was tight, low-potted plants so that the entire dirt area was covered and the lettering was close to the ground. What I got were these perpendicular, absurd hyacinths. It was so far from the original concept I had. I wanted it to look like the civic garden display at Hammersmith that I passed when I went into town. What I got to work with was like working with pink celery stalks!"
There was going to be a "packet of goodies"
-->
The Beatles wanted an envelope including candy and decals inside the sleeve. Blake said, "It wasn't practical. So there was the compromise of a flat packet which slid in easily." The cut-outs - badges, stripes and moustache – had the feel of a cereal box fan club prize, and were presented in a collage by Blake and Haworth (the original was auctioned in 2012 for £88,000).
The boys had it brass backwards
The Beatles all brought in various objects and trinkets to add to the tableau. McCartney rented a van load of French horns, trumpets and tubas. George Martin said, "They wanted to have these very un-Beatle instruments in the photo. The only trouble is, they didn't know how to hold them." Martin was called in to school them.
It was the most expensive album cover ever0
The final cost for the artwork was nearly £3,000 (over £51,000 in today's money), an extravagant sum for a time when album covers typically cost around £75. Lennon said, "Of course, the record company was screaming at the price of the cover. And now it's probably pinned all over walls."
source: Loudersound
Share the page and your opinion with other Beatles fans!
Beatles, Beatles song, Beatles song, Beatles cover, John Lennon, Paul McCartney, George Harrison, beatle, song, songs, music, sgt peppers