Unheard John Lennon interview tapes are up for auction
Follow us on Facebook and Instagram!
A set of previously unheard interview tapes featuring John Lennon speaking about his favourite Beatles songs are to be sold at auction.
-->
Canadian journalist Ken Zeilig recorded the 91 minutes of interviews with the star, and Yoko Ono, on three separate occasions during 1969 and early 1970.
It is believed only five minutes have been aired, in the late 1980s.
Lennon also speaks of his musical influences, the future of The Beatles and how his wife changed his life.
He said he thought the band had "a positive effect" on the youth of the 1960s.
Vote your favorite Beatles songs!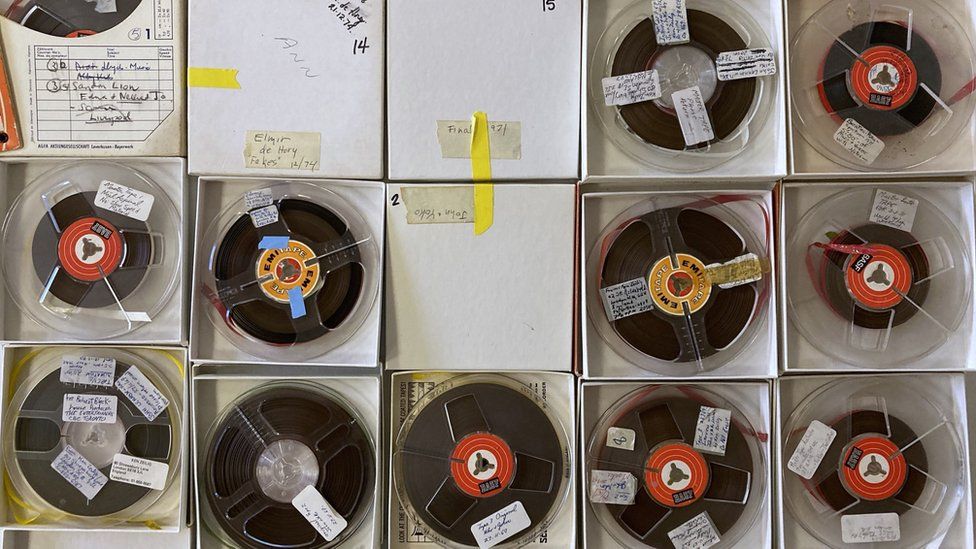 Lennon also recalls a Christmas memory in which he reached into a stocking and found a present of a mouth organ.
"That was one of the greatest moments of life, when I got my first harmonica," he said.
-->
The 12 reel-to-reel tapes contain both edited and unedited interviews, Beatles music and detailed transcripts.
They were only recently found by the family of Mr Zeilig, who died in 1990.
A small section of the recordings was aired on the radio in America via the Lost Lennon Tapes, broadcast in the late 1980s, but the rest is thought to be previously unheard.
Paul Fairweather, auctioneer at Omega Auctions, said the tapes "add to John Lennon's story", describing them as "priceless".
He said Beatles fans would be "amazed to hear the different topics they talked about, things he's probably never been heard to talk about previously".
The tapes will be auctioned on 28 September and are expected to sell for between £20,000 and £30,000.
Source: BBC
Share the page and your opinion with other Beatles fans!
Beatles, Beatles song, Beatles song, Beatles cover, John Lennon, Paul McCartney, George Harrison, beatle, song, songs, music, George Martin, Ringo, George Martin, Brian Epstein, Billy Preston, Eric Clapton